For a self-proclaimed nerd girl, I'm about to make an announcement that will likely disappoint or shock some people: I have never seen any of The Avengers movies and I don't really have an interest in Captain America. Because of this, I missed, completely, the first appearance of the Black Panther in Captain America: Civil War.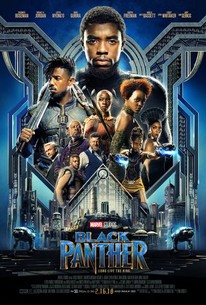 After seeing Black Panther this weekend during its record-breaking opening weekend, I am willing to go back and watch that first appearance, in part because I want to know more.
Before I explain that statement, let me say that Black Panther definitely lives up to the hype. I saw the movie at a matinee here in Portland, OR on Saturday of opening weekend. The theater was sold out, and as we were leaving, we saw tons of people heading in for the next showing right behind us. Our showing was a fun one — folks loved the challenge at the falls scene, applauded for Stan Lee's cameo, and laughed at the "auntie" reference.
I was particularly excited about the movie because I have long loved Danai Gurira as Michonne in The Walking Dead. She was excellent in her role as Okoye, but the breakout star for me was definitely Letitia Wright as Shuri, a funny, fierce and infinitely inspirational character.
There will be so many reviews written that praise this movie, and those reviews will all be absolutely correct. My comment on the movie that is not all praise is in no way a criticism: I left the movie wanting more. I want to know more about how Wakanda came to be, about the leaders of the different tribes and their interactions, about the future of Wakanda's outreach, and about the interactions of these amazing characters. This was the best thing to leave a movie thinking about, and I hope this franchise stays just as relevant and amazing as it begins to answer these questions moving forward.